I am sole author of 34 works, which have been translated into 18 languages and published in 22 countries. I have also worked as a co-author on seven books, five in collaboration with my late wife, Veronica. In 1980 I was elected a Fellow of the Royal Society of Literature.
I was born in 1926 at Ilford in metropolitan Essex. My schooling was at Bancroft's, Woodford Green from where I won a scholarship to Oriel College, Oxford. After serving in the navy at the end of the war I read history at Oxford getting a First in 1950. I stayed another year at Oriel, completing work for an M.Litt. thesis on diplomatic history, and in September 1951 was appointed Head of History at Highgate School.
In my biographies and narrative histories I try to apply ways used to inspire Sixth Formers at Highgate. Much though I enjoyed teaching, I retired in 1969 to become a free-lance writer living for 42 years at Woodstock, Oxfordshire. During the original series of BBC Mastermind I supplied over 3,000 specialist questions, mainly on European history or on London's past. For relaxation I enjoy watching cricket, plays and ballet. I have travelled widely, especially in central Europe and the Balkans. My faith is catholic Anglican. I am an Emeritus Lay Reader in the Oxford diocese.
For information on current developments please contact info@alanpalmerbooks.co.uk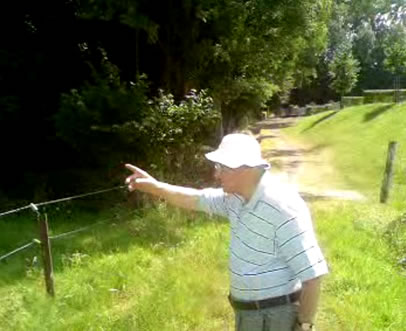 The Author visiting Polygon Wood, near Ypres, while researching The Salient in 2005