'Alan Palmer writes the sort of history that dons did before 'accessible' became an insult. It is cool, rational, scholarly, literate'.
Sir John Keegan.
'Alan Palmer...... made it clear that history is not a finished book......an immutable science of the known and understood but a living and expanding world of discovery. He turned even the dullest corners of diplomatic history into a detective story'
Sir Martin Gilbert (Former pupil of Alan Palmer)
Alan is delighted that his book 'Victory 1918' has been selected as Book of the Month, for November 2018, by Endeavour Media. Click here for further details:
Recent publication: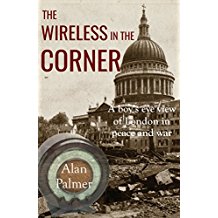 'The Wireless in the Corner'. This is a personalised history of the years 1926 to 1945 as witnessed by me during a childhood in which I was precociously fascinated by events in Europe. It is based on diary jottings, newspaper cuttings as well as published books to provide a social and political survey of the 1930s and the war years up to VE Day in detail. The book was published by Troubadour in April 2017 and is available from Troubador Books
Please click here to see an article published in the Oxford Mail on September 21st 2017 about 'The Wireless In The Corner'.
Alan Palmer has written :-
Ten biographies, all relevant to today's affairs.
Five accounts of past wars, emphasising long neglected campaigns.
Four general histories of regions in Europe and beyond.
20 other books.
All of Alanís books are available on Amazon, many as Kindle editions, and several have also been reissued as part of the Faber Finds and Endeavour Press collections. Please refer to the Books page for details.
For information on current developments please contact info@alanpalmerbooks.co.uk
site built by Banana Systems
Alan Palmer